HRAPF ED Adrian Jjuuko wins Vera Chirwa Award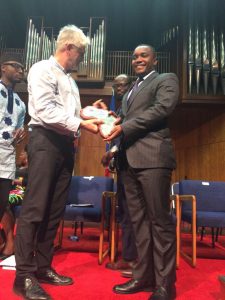 We are most pleased to inform you that our Executive Director, Mr Adrian Jjuuko, was awarded a prestigious award from the Centre of Human Rights at the University of Pretoria on 9th December 2016, on the occasion of Human Rights Day 2016.
Since 2006, the Centre for Human Rights has been awarding the Vera Chirwa Award to graduates of the LLM in Human Rights and Democratisation Programme who best embody the principles of the programme in their subsequent careers by 'making a difference' to the protection of human rights or the strengthening of democratisation in Africa. Mr. Jjuuko received the award in 2016 along with Mr. Patrick Eba of UNAIDS.
The Centre recognized Mr. Jjuuko's role in protecting the rights of LGBTI persons in Uganda through the founding and work of HRAPF as well as his leadership in the Civil Society Coalition on Human Rights and Constitutional Law.The ten cases which have been spearheaded by him were acknowledged. His courageous work was recognised as well as his vision and industry in the fight against structural discrimination despite the threats to his own safety.
In his acceptance speech, Mr. Jjuuko dedicated the award to his family, teh staff of HRAPF and the LGBTI community in Uganda.
We at HRAPF congratulate Adrian on this tremendous achievement and wish him more of such for his dedication and leadership.
2. For more information on the Vera Chirwa award please follow this link:
http://www.chr.up.ac.za/index.php/awards.html